UK Government Bans Sale of ICE Vehicles from 2030: How Fleets Can Test Their EV Strategy
The UK Government recently confirmed that the sale of new petrol and diesel cars and vans will not be allowed from 2030 – a deadline repeatedly called for by the UK Electric Fleet Coalition.
This is an important step towards delivering on Government's Road to Zero policy and a significant moment that will fast-track electric vehicle adoption in UK.
Whilst many fleet operators have been preparing their strategies to make a smooth transition to electric vehicles, this news will inevitably accelerate the pace of change in the market. This revised target gives businesses just over two replacement cycles to make the switch.
The good news is that there are clear financial and environmental benefits to operating a fleet of electric vehicles.
Operating expenditure is far lower due to reduced fuel and maintenance costs, whilst the capital expenditure on new vehicles is slowly decreasing and subsidised by the government.
Electric vehicles produce zero tailpipe emissions (a major positive for our urban environments!), whilst continued decarbonisation of our electricity grid will ensure that the wider impacts of transport electrification are beneficial.
However, careful planning is required for charging infrastructure and fleet operating models.
There has been widespread concern that the UK's infrastructure requires further support to aid the e-mobility transition, with the lack of charging points highlighted as one of the main challenges for those considering the switch, and a barrier to the wider adoption of EVs. With £1.3 billion of Government investment now allocated to roll out EV charging points and £582m allocated to grants for EV buyers, the Government has renewed commitment to sustainable transport solutions. The challenge is now focussed on where, how many, and what type of vehicle chargers are needed to facilitate the operation of electric fleets.
Beyond our infrastructure provision, fleet operating models will need to adapt. Vehicles may no longer operate for a full service cycle without recharging and drivers may not be able to charge at home. Beyond the traditional optimisation challenges of capacity planning, workforce management, scheduling, and demand prediction, operators will also need to consider vehicle range, charge point availability, recharge time, and synchronising charging with fleet missions.
Operators are reducing uncertainty and successfully navigating the transition using simulation
Simulation has been used in transport planning for decades and it's finally(!) fast and accurate enough to save money and increase revenues for fleet operators. Fleets around the world are now using digital operational environments to test 'what-if?' scenarios for the future.
This is crucial for supporting the transition to electric vehicles. It allows you to evaluate alternative infrastructure configuration around current and future fleet operations, measured by impact to energy system, fleet economics or passenger experience.
It also supports the assessment of alternative operating strategies for e-mobility services. Fleet size, vehicle type, and charging strategy can all be tested digitally before roll-out.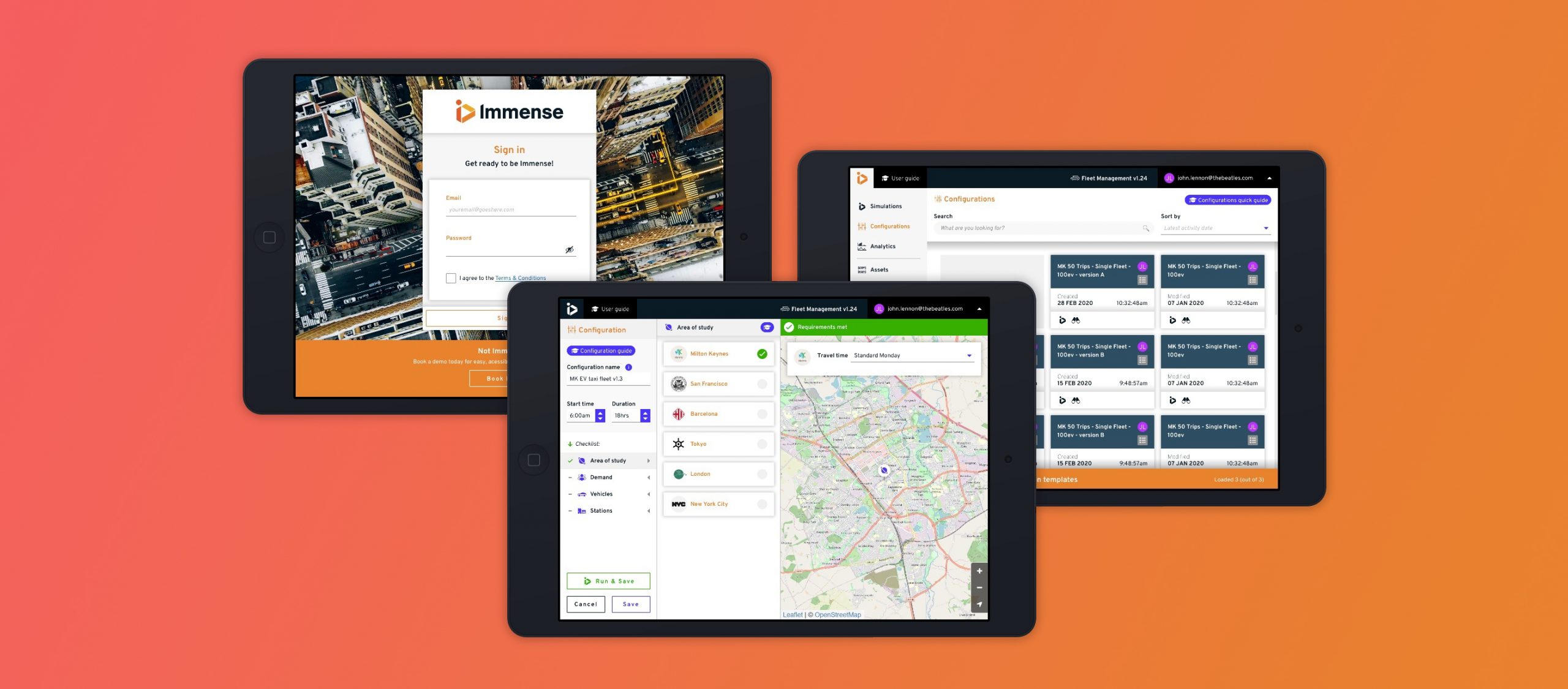 Want to see 'what-if?' scenario-based simulation in action and understand how it can help you navigate the e-mobility transition?
Book in for a free pre-consultation here.