How to Tackle the Challenges of Automated Mobility with City-Scale Simulation
Automated mobility has been thrust back into the spotlight as a solution to the transport challenges associated with COVID-19. As the narrative around autonomous vehicles (AVs) swiftly switches from hype to reality, interest has shifted towards practical services such as grocery delivery and the potential for large-scale AV deployment looks promising and imminent.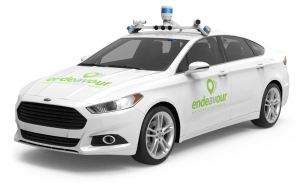 Authorities are actively tackling key barriers, including regulations and social acceptance; worldwide AV demand is accelerating, owing to public health concerns, shifting user requirements and environmental challenges; and billion-dollar investments and acquisitions are taking place by companies including Amazon and Volkswagen.
Some might say we're on the brink of large-scale AV deployment, but while the world is ready for automated mobility, is automated mobility ready for the world?
Fresh challenges, new decisions
Automated mobility at scale brings a fresh set of challenges for businesses, that require serious discussions, trade-offs and risk.
Critical business decisions now centre around:
How much do we invest? Deploying underutilised autonomous vehicles at scale is expensive and ploughing money into the unknown is risky.
Will people use them? Potential consumer uptake and demand is pure guesswork – guess wrong, and you'll lose either customers or money.
What are our infrastructure requirements? A lack of supportive infrastructure will necessitate more vehicles, at the further cost of fleet efficiency and profitability.
How can we collaborate with the public sector? While regulation and licensing are progressing, it's still not up-to-scratch for confident, large-scale deployment.
Beyond the operational challenges of maneuvering autonomous vehicles, these strategic challenges will define the success and future of next-generation transportation.
Tackling uncertain future-based decisions
This rapidly emerging market requires a sophisticated approach to decision making, especially if the potential benefits are to be fully realised.
But how do you make such critical business decisions when you're innovating into the unknown? Black box AI-based optimisation tools don't fully explore and uncover the different trade-offs you're making, whilst data analytics look back at historical trends that aren't useful for assessing disruptive futures.
The answer lies in simulation-based scenario analysis.
When you combine 'what-if?' style questioning with city-scale simulation, you can test possible deployment scenarios and explore trade-offs in order to manage risks, respond to opportunities and ultimately find the best solution for cities, citizens and your business.
To understand the potential of simulated scenarios, let's revisit the above decisions to understand some of the factors we can question.
How much do we invest?
To develop a roll-out strategy that minimises capital investment risk, you can simulate and test your services in different cities with different operational factors such as demand levels, service areas and passenger wait times.
What is the potential utilisation of 100 AVs in London for last-mile grocery delivery?
Will people use them?
To adapt your service to varying levels of consumer demand, you can test different demand scenarios and service types to understand likely uptake and utilisation.
What happens to if we reduce our AV taxi fleet to 20 vehicles?
What are our infrastructure requirements?
To plan for the infrastructure required by your fleet service, you can test the number, location, and types of charge points required to power your vehicles.
How much time will our fleet spend out of service if we only employ two charging stations?
How can we collaborate with the public sector?
To ease concerns and give confidence to government partners, you can test different scenarios to reduce vehicle distance travelled, empty vehicles (dead running) and the impact on public transport services.
How can we design a key worker transfer service to complement public transport?
 …………………………………………………………………………………………………
And these are not single 'shot' questions; the reality of a transport system and service is that demand and supply are always changing and so the 'right' answer to operational and business model configuration is constantly in flux.
Beyond the service type, the capabilities of AVs are changing meaningfully month by month and year by year, meaning an evolving landscape for where and how they can be deployed. This means that the 'right answer' in any given city is unique due to different infrastructure to AV compatibility, and will be different in 2021, 2022, 2023 and beyond.
A new way forward
As we bravely venture into a new world of automated mobility at scale, we must adapt to and overcome a fresh set of challenges.
This requires looking beyond black box AI-based optimisation and data analytics, and towards simulation to question the alternative tomorrows. Only then can we deploy the best solutions for our cities, citizens, and services.
Want to see 'what-if?' scenario-based simulation in action?
Book in for a live demo here.