The Challenge of Designing Something New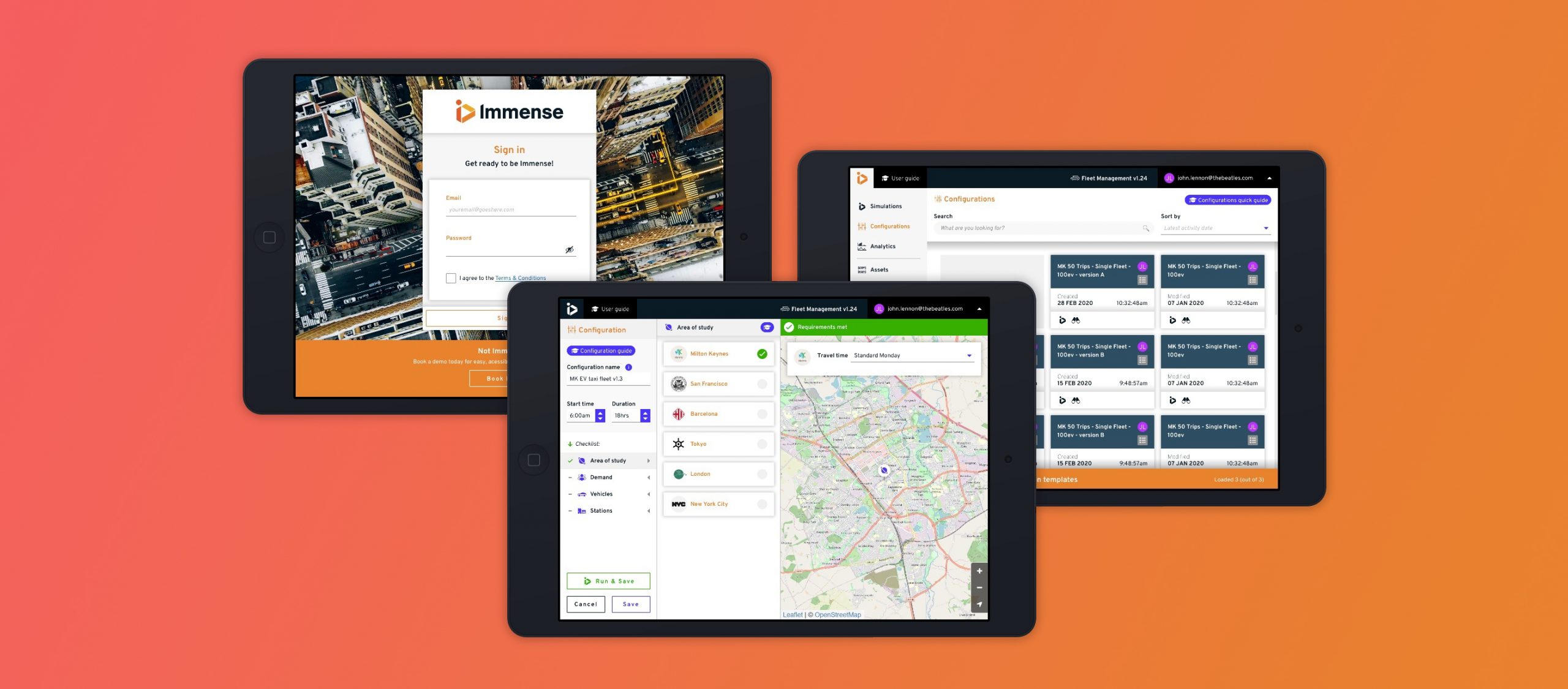 In many ways, the Immense platform provides a simulation capability that has not been seen before.  This poses some interesting design challenges.  Without a pre-existing application to learn from and benchmark against, it is best practice to: (1) start from the basics; (2) do things as well as you can; (3) fail fast; (4) learn; and (5) iterate to polish the product.  It requires one big leap and many quick-small-steps approach to success.
In this post I will outline some of the tools and skills that we use during the development cycle.
1. Agree the Design Strategy
It is important to define intent and ways of working upfront.  Fast moving, agile projects, by their nature, will flex in different ways and at different times for different priorities.  Writing down a plan for what you ideally foresee – your ultimate goal – will help you stay on track to create a successful product at the end of a lot of hard work.
2. Apply Design Thinking with the Double Diamond Method
Talk to any Product / UI / UX designer for any length of time and there is a high probability that the Double Diamond method will crop up.  Designers seem to swear by it, whether you are building a product, planning a wedding or anything in-between.  The Double Diamond method encourages designers or planners to think about requirements more holistically (i.e.  widely and deeply) in order to converge on better solutions.  For example, instead of adding stepping-stones to cross a river you might actually need a bridge with a high-speed rail link, or you might not need a crossing at all because there's a natural way around just upstream.
3. Develop Ideas with Wireframing and Prototyping
Wire-framing and low-fidelity design-prototypes allow rough ideas to be drawn up and tested with real people without investing too much effort into ideas that may not work.  There are many ways to do this.  You can go fancy and create a digital mock-up that has dynamic content to simulate the experience realistically, or you can use a best paper mock-up of your screens.  Either way can provide valuable information early on in the design phase.
4. Validate Ideas with Testing and Iterating
Coupled with wireframing and prototyping, these four steps will create a loop at the heart of any creative process.  Testing can be achieved in many ways.  But at its core, a designer or researcher sits with a prospective user to explore designs through a scripted set of scenarios and maybe some subsidiary questions triggered by the feedback.  This sounds simple but it is not: care is needed to write your script in a non-suggestive way as its important to not introduce bias into your results.  Also, as you are dealing with people and representing the company, a friendly yet professional manner is required when interacting with prospective user.  Any findings should then be used to improve the design.
5. Finalise the Design System
When it is time to start finalising the designs, it is important to resist the urge methodically to re-create your wireframes from start to finish and get the job done as quickly as possible.  It is better to think of the design not as a series of screens but as an ecosystem of universal parts that make up the experience.  A Design System contains not only the final screens but a Design Library of design components, elements, icons, and molecules as well as text and colour styles.  Every part used in the screen sets should be referenced from the design library.  This will ensure consistency of appearance and behaviour throughout the platform and the time you invest in it up front will allow you to work much faster in the long run as any changes to the design library will cascade through all instances of that item in your system.
The opportunity of designing something new is both exciting and challenging. To ensure success, we need a consistent strategy that utilises the best available tools, skills, and team members. The 5 stages outlined here will remain consistent as we continue to expand and refine the Immense platform. We hope that it may be useful for you too!